Being a student can be a strenuous experience as you have to handle the assignments and projects, and not to forget, there are never-ending tests and exams. Honestly, all of this can take a toll on your health, but nothing works better than indulging in smart work rather than tiring yourself with hard work. It wouldn't be wrong to say that students have been exploring different study resources and websites for studying. So, to help you out, we are sharing some best ways to study and great online tools that will ease the learning experience.
Part 1: Best Study Tools
There are some students who have a hard time articulating the concepts, which really impacts their learning process and reduces their overall productivity. For this reason, mind mapping is suggested, and PDNob Mind Map is one of the most promising solutions. Being an efficient and free mind mapping tool, it's a great way for students to create ideas, organize them, and refine them for better understanding. Overall, it's a great tool for project planning, research and analysis, and problem-solving.
Create Now
Give Advice
02: Quizlet
Constant learning is essential for every student, and Quizlet has been designed with a variety of flashcards that ease the learning and make it a quicker process. It comes with an AI learning assistant to show the flashcards related to your subjects. In fact, the students can create their own flashcards, which helps test their knowledge.
Contrary to the usual belief that Quizlet is only good for MCQs, you can also find step-by-step solutions, making it easier for students to have a personalized learning experience and track their progress. There is a write mode available to test your memory, while the learn mode helps you get ready for the tests.
03: Grammarly
If you are someone who has a hard time writing assignments and projects, nothing works better than Grammarly because it's one of the best online free tools. It can be used to check the written content for spelling mistakes and punctuation. In addition, Grammarly can outline the badly-written sentences, so you can correct the sentence structure, resulting in a more organized and suited outcome.
04: PDNob PDF Solution
PDNob PDF Solution is a great online tool that allows the students to change the documents' structure. For instance, it can convert Word, PPT, images, Excel, TEXT, and HTML documents into PDF form. Since students have to submit their assignments and projects in PDF form, it's actually a great option. Also, the PDF conversion is extremely accurate, so you don't need to worry about formatting and text scattering.
05: Forest
It's common for students to not being able to focus on their studies and get distracted. However, with the internet and tech advancing, there are various focus tools available for students, and Forest is one of them. It's a focus timer that boosts productivity and helps you stay focused on the task. With this app, you are supposed to not use your phone as it lets the tree grow. Since it helps build a forest, it's a great motivator to keep the phone away!
Bonus: College Study Resources
When it comes down to determining what is the most useful in self-study, it's the well-made study resources. This is because the information present in the textbook is not enough, which is why it's suggested to have access to additional resources, and we are outlining some of them for you!
06: edX
edX is a well-known tool for students who want to study online for free. It's a collection of various online courses that have been designed by top universities and experienced professors. Established by MIT and Harvard University, it's truly an amazing platform with a wide range of subjects – the courses are over 2800 and are trusted by more than 2500 million students on a global scale. The courses have high-quality content, and you can also find some online micro-degrees.
07: MIT Open Courseware
Designed and launched in 2002, MIT Open Courseware is one of the best study tools that provides the MIT courses for free. In addition to course materials, you can also find recorded lectures and additional study materials. Some of the common subjects include business, engineering, energy, health and medicine, society, humanities, and science. On top of everything, this is a free tool, so start learning today!
08: Khan Academy
Khan Academy is one of the best online learning platforms which has top-notch content for everyone, irrespective of their age. It's a non-profit platform with free courses. The majority of content is related to finances as there are primary and secondary mathematics, investment, financial management, and advanced mathematics. The videos are designed with attention to detail, and it's safe to say, even the most complex topics can be learned in ten-minute videos!
09: Stanford Online
Stanford Online Stanford Online, as the name suggests, this platform has been designed by Stanford University, which is loaded with learning opportunities. Ranging from free courses to online degrees and graduation degrees to professional certificates, there is something for everyone. Moreover, there are open courses for students who like interacting.
10: Harvard Extension School
Every student has to make his way into a professional career, which is why you can depend on Harvard Extension School. For college students studying to advance in life, this platform offers more than 800 courses in twenty different fields, which not only support the academic career but intellectual pursuit as well. There are graduate degrees and professional certificates available. In addition to free resources, there are some premium courses and degrees, but you can apply for financial aid.
11: Open UW
If you have been searching for free and low-cost courses and programs, Open UW is a great platform that's launched by the University of Washington. There are free online programs designed by the university's faculty, so you know that you are getting the best learning experience while staying at home!
12: Open Yale Courses
Yale is an Ivy League college, and it wouldn't be wrong to say that learning from it would be an honor. Well, it seems like they have made things easier by launching this platform (Open Yale Courses) where you can access free courses, and some introductory courses are enough to boost your concepts in a subject that you are studying for the first time.
13: Open Learning Initiative
Launched by the Simon Initiative, OLI is a perfect replacement for textbooks and has content that's been curated after years of research. The courses are available in various fields, ranging from business to arts and humanities, data science and causal reasoning to computer science and programming, and physical sciences to engineering and mathematics. In fact, there is special content available on student success, which helps learn interpersonal and cognitive skills!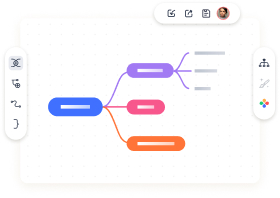 A Pioneering Mind Map Tool
PDNob Mind Map
A full-featured mind mapping and brainstorming tool to help generate ideas visually.