When it comes to making a great presentation, sometimes the hardest part is to figure out how to share all of the information with your audience. Using mind map presentation software is an effective strategy because it can capture the audience's interest and help them understand the information better.
Do you know what is mind mapping? Mind mapping lets you map presentation ideas, makes the information more memorable, and lets you make connections based on how your brain processes things naturally. Mind maps are basically illustrations or diagrams with a core topic placed at the center. Then different ideas are generated from there.
Mind mapping software helps you reach an acceptable level of animations and visual beauty. This article will highlight different ways to make a mind map presentation and tips for creating an effective presentation. Let's get started.
Part 1: How to Make a Mind Map Presentation?
---
There are several ways to create mind map presentations. Here we will discuss the two most common methods for creating a mind map.
Here is a detailed guide to using PDNob mind map presentation software.
Create Now
Give Advice
Click 'Add New' on the left navigation on the home page, and then tap on 'Add New' to create a new file.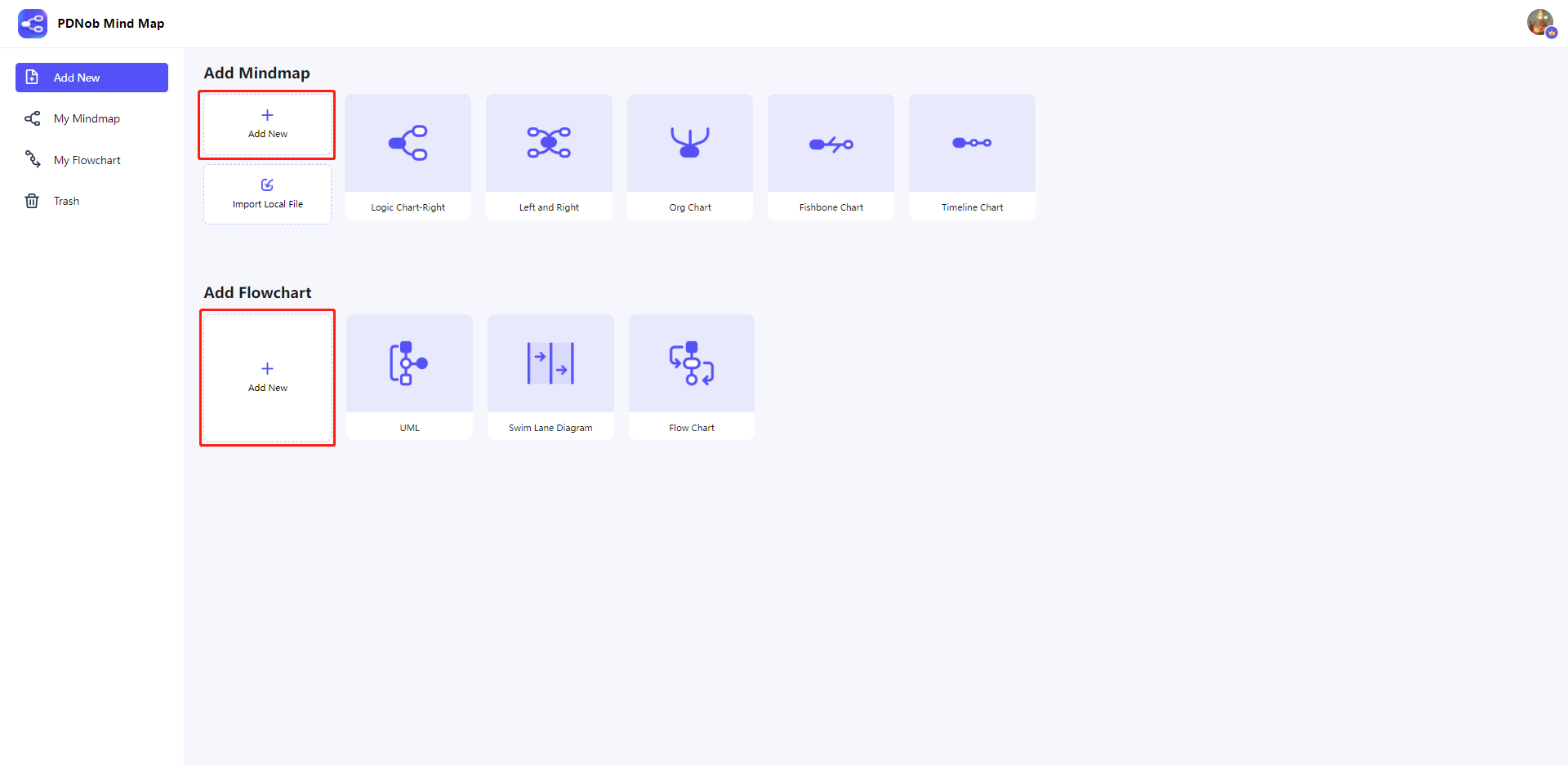 Add Content
Save the file after creating a mind map.
Create Mind Map Now
Way 02: PowerPoint
1.Make a PowerPoint presentation
Open PowerPoint and select 'New' from the left pane.Choose an option.
Choose Blank Presentation if you want to start from scratch.
Choose one of the templates to use a ready-made design.
Select Take a Tour and then Create to see PowerPoint pointers.
Insert a slide
Select the slide you want your new slide to follow from the thumbnails on the left pane.
Select New Slide from the Slides section of the Home menu.
Select Layout from the Slides area, then choose the Layout you want from the menu.
Add and Format Text.
Put your cursor inside a text box and type something.
Select the text, then choose from the Front area of the Home tab one or more options, such as Font, Increase Font Size, Decrease Font Size, Bold, Italic, Underline, etc.
Select the text and then Bullets or Numbering to create bulleted or numbered lists.
Add a Picture or Shape
To begin, select the Insert tab.
To include a photograph:
Select Pictures from the Images section.
Select the desired source from the Insert Picture From option.
Find the image you want, select it, and then choose Insert.
To include illustrations, write:
Select Shapes, Icons, 3D Models, SmartArt, or Chart from the Illustrations area.
Select the item you wish to put in the dialog box that appears when you click one of the illustration kinds and follow the prompts.
Part 2: Tips for creating an effective presentation
---
If you're giving a presentation, you're in charge of conveying information. Using words and images to convey your message is one way to accomplish this.
But what if your audience isn't paying attention? What if they can't understand what you're saying?
One way to help ensure that doesn't happen is by creating an effective presentation.
Here are some tips to help you do that:
Plan your presentation.

Before you start, plan the structure of your presentation, including an introduction, a body, and a conclusion. Aim to keep it short and to the point.

Use an easy-to-read font style.

Use a font that is easy to read, such as Arial or Calibri. Do not use fancy fonts that are hard to read because they can distract your audience from the content of your presentation.pan>

Choose an appropriate font size.

Use a large enough font size so that everyone in the audience can see it. If your audience is sitting at a distance from the screen, make sure they can read what is written on it without straining their eyes or squinting too much.

Use color wisely.

Color can help draw attention to certain elements on a slide, but too much color can distract or cause eye fatigue. You may want to use a limited number of colors for your slides, such as one main color with white text and black lines separating different slide sections. This will help keep your audience focused on what matters most

Use bullets and lists.

Lists and bullet points are useful. They allow you to break up your talk into manageable chunks. Also, they make it easier for people to read what's written on the slide without remembering every detail of what's being said. However, don't overdo them — keep your lists short so that people can follow their logical progression easily.

Use Boldface for keywords

, but only if they're hard to read otherwise. Boldface is an excellent way to emphasize important words, but it can be distracting if used too much. Use it sparingly and only when you need it.

Simplify the text.

Remove all unnecessary information and use simple words and phrases. Don't try to impress your audience with words they don't understand.

Use high contrast between the background color and text color.

White text on a dark background is the most readable combination, but the light text on dark backgrounds is easier on the eyes for long periods. Select colors that complement each other and make sure there's enough contrast between them so people can read your slides easily from across the room or from behind their laptop screens during a webinar or teleconference call.
Conclusion
Mind mapping software allows you to visualize relationships and concepts to view the context of entire systems. These tools provide a graphic-based platform to generate ideas, synthesize, formulate, recall, understand, and structure your thoughts better. Using a mind map, you can get your ideas out of your brain and map them out. It's just a way to help the audience enjoy your speech. This article has discussed two different ways to mind map presentations and tips for creating an effective presentation.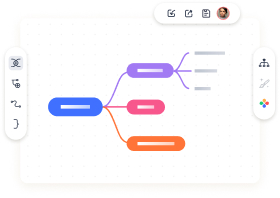 A Pioneering Mind Map Tool
PDNob Mind Map
A full-featured mind mapping and brainstorming tool to help generate ideas visually.