Lucidchart is a professional diagram tool for cross-platform collaboration and visual communication.It allows users to create and share professional flowchart diagrams for various purposes, including brainstorming and project management.
Although Lucidchart has been an excellent platform for many, it might not be beneficial to all. There are several factors for which people look for alternatives to this software.
While the software has a free user plan, these free features are pretty limited. Moreover, Microsoft users find Lucidchart inconsistent with their applications.
Users look for sophisticated, easy-to-use software solutions with notifications, file sharing, project templates and document collaboration. We have compiled a list of alternate diagram software that may fulfill your requirements:
PDNob MindMap serves as a great Lucidchart alternative. It is a free online mind mapping tool by PDNob. You can quickly construct mind maps to visualize your thoughts, such as reading, with PDNob Mind Map. It satisfies a variety of purposes, whether you're studying, working, or working in a group.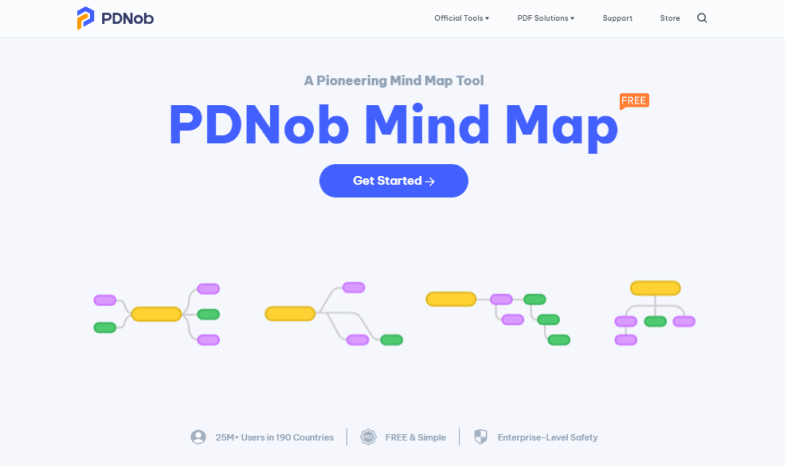 Features:
Explore ideas or organize plans in any format.
Six different themes for users to choose from.
Enterprise-level safety for users and their content.
Customized settings options.
Free trial for new users to test the software.
Pricing:
$4.99/month charged monthly.
$2.08/month charged annually.
Creately is a work management tool with an intuitive visual interface. It allows teams to brainstorm, plan, manage, and collect information all in one place. It combines and centralizes work items from many apps, documents, and individuals in one place.
Features:
Project & task management
Multiple access & role levels
Data import and export options
Range of Templates to choose from
Collaboration on a custom database
Free software option for cloud available
Pricing:
$4.95/month personal subscription on cloud or $18/month for a Team subscription of three.
$75 to purchase software for personal use or $225 for a team of three.
Gliffy is an HTML5-based cloud-based program for diagramming. It's used to make online UML diagrams, floor plans, Venn diagrams, flowcharts, and other diagrams. Gliffy diagrams may be shared and updated in real-time by users.
In the LucidChart vs. Gliffy comparison, both the software have been considered better than the other regarding the users' personal needs.
Features:
Several collaboration tools
Smooth data import and export
Features for organizational diagramming
Templates for revision history
Publish and share diagrams on the platform
Wireframe creation tools
14-day free trial without the need for billing info
Pricing:
Pro version $6/month for a single user charged annually.
Pro version $8/month for a single user charged monthly.
OmniGraffle is visual diagram software that allows users to generate diagrams and images to communicate their thoughts graphically. It is often used for quickly making high-quality graphs and charts, notably, flow charts, and exporting them to JPEG, GIF, and PNG image formats.
Comparing OmniGraffle vs. Lucidchart, you will find a few different tools in both software. Make sure you look at what suits you best before opting for one.
Features:
Collaboration tools
Various templates
Features for organizational charting
Data import and export options
Drag and drop interface
Free trial available
Pricing:
$99.99/individual license, $149.99/Family license.
Pro version $199.99/Individual license, $299.99/Family license
Miro is a cloud-based collaboration tool that lets users generate charts and diagrams while also serving as a meeting, presentation, and real-time team collaboration platform. From brainstorming with digital sticky notes to planning and monitoring agile workflows, Miro enables remote teams to collaborate efficiently.
Features:
Access Control/Permissions
Various collaboration tools
Data import and export options
Process modeling and designing
Third-party integrations
Customizable templates
Pricing:
Free and premium plans - $10/month charged monthly.
Free and premium plans - $8/month charged annually.
Custom enterprise pricing options
Whimsical is a digital collaboration platform that allows organizations to produce papers, wireframes, flowcharts, sticky notes, mind maps, and more to boost creativity across the board. When comparing Whimsical vs. Lucidchart, you may find that Whimsical has more minor features than the other; however, the user ratings for both are pretty similar.
Features:
Brainstorming tools
Communication management
Real-time updating
Customizable templates
Wireframe creation
Drag and drop editor interface
Free trial available
Pricing:
Offers a subscription or a free plan
$10/ user per month charged annually
$12/ user per month charged monthly
Conclusion:
Lucidchart has been a great digital tool for web-based diagramming and collaboration. However, due to its pricing options and limited free features, users often look for free lucidchart alternatives.
After analyzing each software close to Lucidchart, we made the list of the best alternatives you may find with the best features and pricing options. Students with specific requirements can navigate through each software feature to discover what they may find in the free plans. You can also opt for monthly subscription plans, which you can cancel anytime.
We hope this article was helpful for you!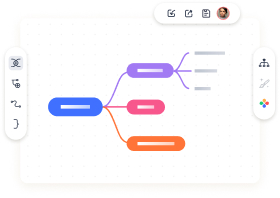 A Pioneering Mind Map Tool
PDNob Mind Map
A full-featured mind mapping and brainstorming tool to help generate ideas visually.