Ranging from programmers to managers and engineers, everyone has been using flowcharts for decades but it seems like they aren't the only people who can benefit from them. This is because flowcharts are meant to streamline the topics and work, which makes them suitable for everyone who needs to organize the data and create some insights.
However, creating a flowchart is often very challenging for beginners, which is why there are various best free flowchart software solutions that you can try. So, with this article, we are sharing some options to help you select the best flowchart software!
Price
Free - 16 Files
Monthly - $4.99
Annually - $24.99
The free version is also available but the paid plan allows unlimited files, unlimited nodes, and priority customer support. Moreover, you can export HD files.
Features
Easy to use
Multiple themes
Allows files import and export
Mind Map + Flowchart
The mind mapping technique has been around for centuries (haven't you seen your old family members making family trees?). However, when it comes down to professional and personal lives, they are extremely undervalued and underutilized but it's time to change it with PDNob Mind Map. This is a free online tool for people who want to create mind maps and flowcharts to organize information.
2. Google Drawings
Pice
Free
Features
Integrates with Google Workspace, Google Drive, and Bit.ai
Document-based training
Customizable
Allows charts and diagrams
Scribble brushes for smoothening
Allows picture import
Google Drawings is one of the easiest for creating diagrams and shapes and is a great way of adding color to the websites, presentations, and documents. In addition to Google flowchart, you can also create charts and layout diagrams.
3. Microsoft Visio
Price
Vision Plan 1 for $5.00 with 2GB of cloud storage
Vision Plan 2 for $15.00 and supports apps
Features
Helps disseminate the complex diagrams into singular parts
Improves professional diagrams
Converts map data into flowcharts
Automatically documents the process diagrams
Secure sharing
Microsoft Visio is one of the best choices for people who need to create flowcharts and it's great if you already have access to Office 365 products as it eases the information and chart merging. In addition, it offers various collaboration features in addition to shapes and templates.
4. Lucidchart
Price
Free with 100 templates
Individual plan for $7.95 with more than 1000 templates
Team plan for $9 with more than 1000 templates and requires three users at minimum
Enterprise (you've to contact for getting the price)
Features
Expands the canvas
Clean diagrams and flowcharts
Separate columns for adding context
Allows layers and links
Workflow editor
Shapes can be customized
If you are looking for the best way to make a flowchart, nothing beats Lucidchart as it allows the users to create diagrams and flowcharts on an online tool and they don't need to download anything. In addition, there is an import feature available for organizing the information and can be integrated with MS Office apps.
5. Draw.io
Price
$5 for over ten users
$11 for over 20 users
Features
Varying diagram orientation
Keyboard shortcut
Drag and drop
Shapeshifting
Scalable images
Draw.io is a perfect choice for people who are wondering how to make a flow chart. This is because it comes with in-built templates, scalable images, and predefined shapes. In addition, it can create flowcharts as well as wireframes, network diagrams, and UML diagrams. Moreover, it comes with a vector graphics editor for producing professional-grade diagrams.
6. LaTeX
Price
Personal plan for $5
Standard plan for $19
Professional plan for $38
Features
Customization
Management of citations and internal references
Allows file conversion
Structured files
Typesetting
LaTeX flowcharts are one of the best in the market. It's an old software solution that allows the users to typeset the journal articles, slide presentations, and journal articles. In addition, it promises better control over large documents as it contains figures, tables, cross-references, and sectioning. Moreover, it's extremely efficient.
7. Miro
Price
Free
Team plan for $8
Business plan for $16
Enterprise plan (you've to contact them for pricing)
Features
Collaboration tools for centralized communication and editing
Infinite canvases
Predesigned templates
Smart frameworks
Screen sharing
Allows embedding of chat, comments, and videos
Miro is one of the best platforms for people who want to make a flowchart online free without compromising on quality. It can be integrated with Google Drive, Slack, Sketch, and more. Moreover, one can embed different files while the centralized platform makes it easier to communicate with the team members for real-time changes.
8. Canva
Price
Free
Pro plan for $54.99 on an annual basis
Enterprise plan for $30 for a month
Features
Allows combination of images
Allows to add a description, caption, and title
Flowcharts and montages
File format conversion
Editing tools
Mirror images
Canva is one of the most reliable graphic design tools available in the market and the Canva flowchart is incredibly easy to make. It can be used to create presentations and posters as well. In addition, it's a great choice for creating banners and infographics, and one can use the web version or download a smartphone app.
9. LibreOffice
Price
Free
Collabora plan for $18 per user for a year
Enterprise plan (contact for custom price quote)
Features
Writer tool for word processing
Spreadsheets
Slideshow creation
Graphic editing
Formula editor
Standalone tool for creating and editing charts
Hundreds of plug-ins and add-on tools
LibreOffice is open-source software that's incredibly easy to use and works on various devices, ranging from Mac to Windows and Mac. In addition, it works offline, so you don't need to be worried about internet connectivity.
10. SmartDraw
Price
Individual plan for $9.95 a month
Team plan for $5.95 a month
Enterprise (contact them for pricing)
Features
Multiple templates, diagrams, and tools
Offline and online access
Full-range import and export
Allows integration with MS Office, Trello, GSuite Apps, Confluence, and Jira for collaboration and storage
Automatic formatting
Brainstorming
SmartDraw is designed to offer an array of tools, diagrams, and templates to help people make a SmartDraw flowchart. In addition, it can be used to create engineering and CAD diagrams, organization charts, and floor plans. One can customize the charts but there are pre-built templates as well.
Conclusion
While it's evident that flowcharts promise easier data organization and understanding but it can be extremely challenging to create these flowcharts manually. For this reason, the flowchart software solutions in this article will be a great help. So, which one will you choose and use?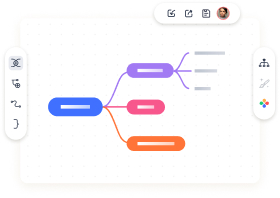 A Pioneering Mind Map Tool
PDNob Mind Map
A full-featured mind mapping and brainstorming tool to help generate ideas visually.